And... I told you all of that to eventually arrive at my next point, which is that eventually I found a message board that permitted image signatures.


pogwatch.gif 1-26-01
Those are also bad.

gomos.gif mysterious
This wasn't mine, but it relates to another which was. Be patient! This was someone else's needless signature image (no, not Gomos'). That Person used to talk about Something that was Awful a lot, so I came to assume that the some awful thing either was this or related to this in some way.
For some reason, I hope, I looked into the matter and found out that there was (perhaps still is?) a Chinese website that sells things, furniture among them, which has this curious creature in its page logo.
Anyway.

pogomos.gif 2-2-01
I have a very dull life.

insult.gif 1-31-01
I don't know. I've never seen this before in my [dull] life.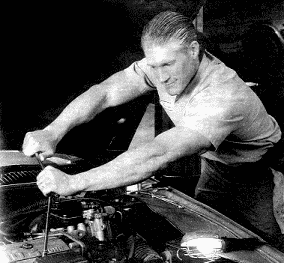 reckon.gif 3-24-01
Before I had two broken scanners, I had one broken scanner, and before that I had no scanners, but after that yet before the that before that that I had one functioning scanner. So.
I scanned this out of Weekly World News. I somehow found this advertisement, for a car fixing school or some such thing as that, more interesting than the wacky, crazy, and just plain zany stories of the new lost dead sea scrolls or how the earth is going to end in 1999, how the earth is going to end in 2000, and how the earth is going to end in 2001.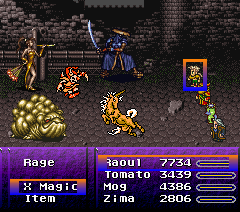 that.gif 4/20/01
What, I believed, might have happened had Steve Moraff been Japanese and employed by Square in 1993, instead of North American and selling carpet samples. Unfortunately, I couldn't make the highlighting hideous enough and the nes monsters were fundamentally too well drawn for this image to have the desired effects.
More message board moronity:
| | |
| --- | --- |
| Someone who used this | once took irk with me for using this, |


so I used this instead. I make lots of friends on the internet. (9/16/01, you know)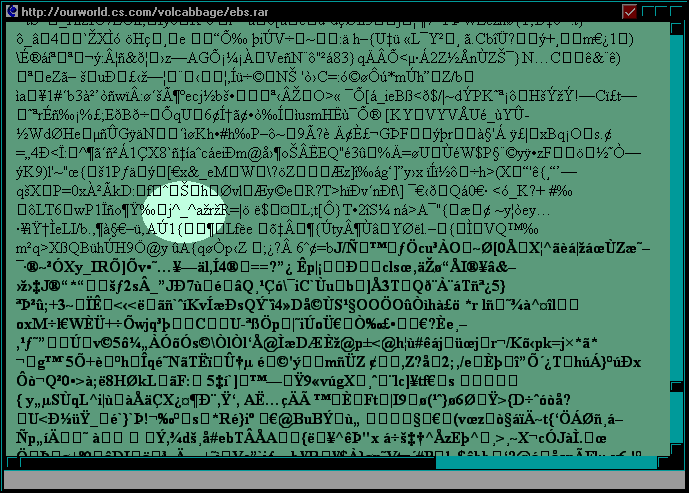 NOOOOOO.png 11-17-01
I don't remember what ebs.rar is or was


noinvinco 2/12/02
I fear that few may have heeded my grim warning.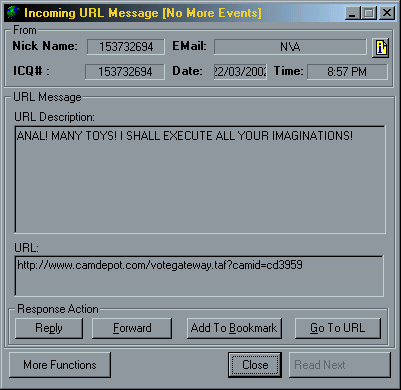 3/29/02 (or is it?)
Contrary to my recollection, I did use ICQ for a period. A two minute period. This was the one message I received.


Some dissent arose regarding the letters printed on Ziggy's helmet. Determined to resolve the argument, I took a closer look that few others were willing to risk and came up with this: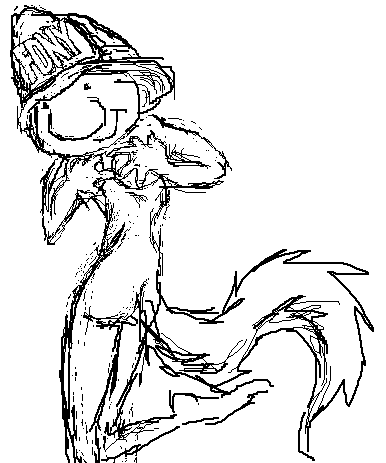 7/28/02
FDNY. I hope this information has been helpful.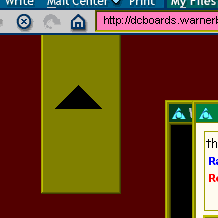 7/18/00
The evil arrow! The first time I encountered it, I knew no one would believe the story, so I quickly made a visual record of the destined meeting. Also: Don't think I was a nerd because I posted on the DC message board. Think I'm a nerd because I posted on the Mad Magazine message board owned by the same website.


7/18/00
But that was not the end! Unless this was the very day I swore off the wicked AOL browser, I question the authenticity of the claim that this and the previous share a date. The arrow, however, is very real. Also: The only known evidence of spam.org e-mail


2/16/02
It was a year before I found it again, for it had moved to a different computer. I realize now that it was fate that the machine should end up in my possession. Also: The arrow is skilled in the arts of both the verticle and the horizontal!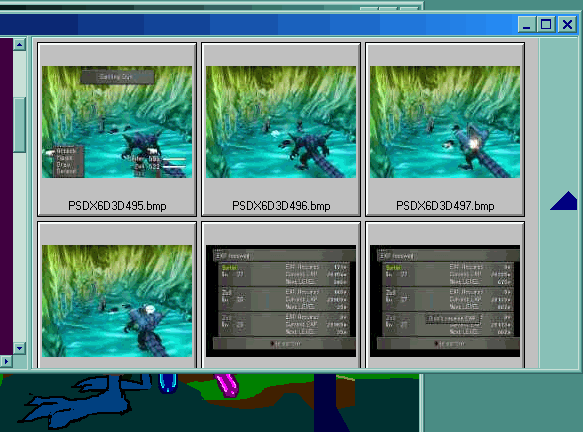 12/20/03

This one attempted to hide behind the window boundary, but I found it!

Although it funtions like a regular sized arrow, it may click itself if it detects the presence of a mouse cursor. It is more aware than you think.
It only shows up when it knows system resources are especially taxed, much like lions often target wounded prey, but thankfully the arrow hunts alone, for in larger numbers I do not believe they could be stopped. Usually the evil arrow lingers for a very short time and escapes as soon as a different window claims focus. A single attempt of mine to "pose" a screen capture resulted in the arrow eluding capture that one time. It was a foolish and decadent error which I long regretted! Arrow was not about to allow me to think it worked for me; Arrow was in control and would not let me forget it. Neither then should you, for now that you have been made aware of its existence, you too are a target! G'fa ha ha ha! You fool! Now you shall suffer as I have! Assuming you haven't been already reading the rest of this page.

Update! Even though as of this time I have not uploaded any of this, I don't feel like rewriting the previous paragraph. Nearly ten months later, while browsing the exact same directory, look who I found waiting!

Enough of that.

Deviating from my usual award acknowledging uninformed political commentary, I wrote some small bit regarding the republican national convention pretending I had confused it with the other conventions I read about on the internet. Since I don't know much about them it wasn't very amusing so I was going to end with a picture of my "con badge" which would be some intentionally tacky thing to complete the deal and additionally draw attention from the text's dullness. However, this happened: