Below, a rundown of a few of the fearsome, flipping foes you will face. Feh. First is the description provided by the game, followed by our expert's* own in depth analasys.


*Expert may just be me in glasses and lab-coat.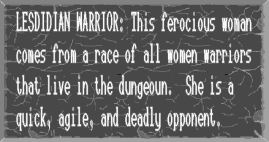 | | |
| --- | --- |
| | Quick and agile. Yes, this sort of redundancy is Moraff's way of intimidating you. They try to make you think that, perhaps, there is some minor difference between the two that would warrant the listing of both. Speed is most likely an important factor for these ferocious women, as it's quite hard to take your oponent seriously when they don't even understand how to properly weild their weaponry. One can only ponder the implications of the word "lesdidian." |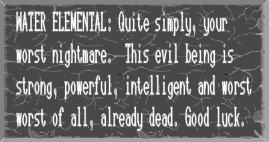 | | |
| --- | --- |
| | More of the famous Moraff redundancy. Strong, as well as powerful. And of course worst, worst of all, as has been said, it has already died in some way, which logically implies that it could not possibly be killed a second time. One might assume that would make it a zombie, but zombies are not widely known for being intelligent, are they? It's far from my worst nightmare, though. I reckon that would involve a lot more running in place. I reckon. |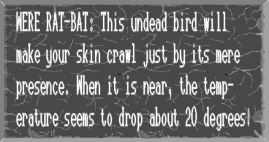 | | |
| --- | --- |
| | As is obvious from the provided description, not even the game's creator has a definite idea of what the hell this creature actually is. I can understand the confusion. Note the straps, which appear to indicate that the wings are not at all natural. But without the wings, it would have only two arms and would hence be rendered immobile. This just goes to prove that even a top selling internationally known software company such as Moraffware does not discriminate against the handicapped. |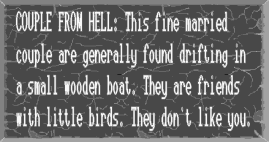 | | |
| --- | --- |
| | Another one that makes you think. Who doesn't like me? The people in the boat or the birds? And what reason could either party have for hating me? How did the birds get into the dungeon, and how could they be living there, if there is nothing for them to land on? How are the birds even relevant at all? Hey, how did the boat get down there? Are there trees in hell? Dungeons of the Unforgiven: The thinking twit's game. |
Unnecessary horizontal flipping and strange video modes aside, the graphics in Module 1 are quite good, at least in comparison to some of the other [non console] stuff released in early 1993. Like... well I don't know, but they aren't too bad, especially when you consider that more than half the color palette is occupied by the not quite nauseating, yet still sufficiently sickening "rainbow" highlighting. This was sort of a trademark of Moraffware's DOS games, I'm guessing as a way of displaying its VGA superiority. "Why should I play Moraff games?," a hypothetical idiot might ask. "Because you get to see brown gradually turn into green!," an excessively enthusiastic yet also hypothetical Moraff would reply.

The later modules (if you haven't already figured it out, "module" is the word Moraffware uses in place of "episode") are a bit of a let down, as all of the dungeons look exactly the same, the Moraff people just rearranged the wall graphics to be displayed with each of the game's four almost distinct color palettes. But more on that later.

Another sign of Moraff's cheapness is found in the expanded modules' monsters, because most of them are ripped straight out of the game's very similar predecessor, Moraff's World, especially cheap, because those were made originally in 16 colors (not particularly well, I might add), and no effort was made to update them. Such an effort may have proven unwanted after all, though, because there are a couple which were clearly drawn by neither artist, and those look even worse.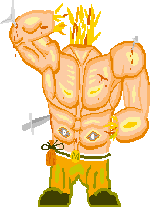 Yes, I'm talking about you.
The gameplay is pretty straight forward. Gee, how many times have you heard THAT one? You walk around, fight stuff, walk around some more, immediatly followed by more fighting. Then you fall through a hole in the ground and suddenly the mosters look different but aren't any harder to kill. That's basically the game.
There is no treasure to be found lying on the ground or "hidden" inside of an unlocked inconspicuous red and yellow box. Any and all treasure must be obtained through the slaying of monsters, and cycling through the random messages generated upon you doing so. The greatest of the treasures are carried by the shadow monsters, identifiable by their mysteriously transparent areas ehhh- if you hadn't guessed that already by the name.
I wish that all my pots and pans said "Moraffware" on them. Seriously, working for Moraff would be fabulous. Every day would be a battle to quell hysterical laughter before biting through my second knuckle. I can just imagine his goofy head popping around the corner to deliver great, unsolicited, snake-like motivational comments. I bet that he's got a popcorn popper.