would in any way equate having that knowledge with being smart. If you're so bored with Pac-Man that you begin
yet refuse to stop playing pac-man, then you're probably after a world record, and if you are, then you're still an idiot, because being good at pac-man is a dumb thing to be proud of.
By the way, I saw this at least a week before I saw it again and put it here. If it's really such an ineffective ad that no one had claimed the $50 by then, surely the fearsome and ferocious GAMETIGER would have stopped running it by the time I took offense from it. Gametiger. Come on. Surely I'm not the only person who remembers those awful pre-gameboy digital clock technology things also called tiger and also called games. What kind of twit would expect a website named after that to get any traffic at all? The same kind that would give you fifty dollars for knowing how many dots are in a Pac-Man level.
When the coconut is mine you will feel the pirate's scorn
I hate the thank-giving propoganda. With exceeding 90% consistency we are given images of manmen drinking beeyah and watching "the game" and being dopes and womanwomen in a kitchen preparing bland food and being submissive to the dopes and thus just as dopish. It's just a boring, disgusting, "find your place and be put in it" holiday. The only thing I'm thankful for is that as of the time of my writing this there is no way to enforce stereotypes. That was put on hold until the LOAD (Legion of Abbreviating Doom) finally
trusts
I am
computing
to their specifications, and I'm not about to worry myself with that when I can't even be sure
Ad-Aware
isn't secretly burning a barcode into my retinas. So I'll stay with what I know for once, and that is how much I hate the day before the biggest shopping day of the year.
What about the food? The great
feast?
No. Bad. I hate the traditional food. All of it. Why is this food traditional? Who decreed it must be
my
tradition? Traditionally, tradition is a thing people did because they thought god(s) would smite them if they didn't. I seriously don't think the only thing between you and a lightning bolt is a spoonful of wet bread crumbs. Stuffing - what is it? And why is it? I only know why it isn't... getting stuffed into me. Because it tastes bad. The only thing I've ever seen it stuffed into is a couple of pouches inside a cardboard box that says "stuffing" on it. Cardboard boxes, as you may know, roamed the plains in great numbers back in 1620, alongside many Pilsbury brand dough-flour-yeast objects in various shapes and sizes. Today, you can get all the freshness and flavor of microwave food in 4x the time right from your oven! And since they're pre-cut, you need only tear them apart and drop them in a basket, and no one will know you didn't bake them! Prior to tasting one, of course.
I've always thought of turkey as meat I enjoyed eating less than chicken. Chicken, then, is something that I generally don't enjoy eating if it's not in a quesadilla, which in this instance it is not. So we're looking at a less-than-none figure here. People like to put gravy on it. You know what gravy is? That's a substance you put on another substance to cover up its flavor or lack of flavor. Now, if the gravy too tastes bad or not at all, tell me again why we don't just eat fudge? Not "nutrition," definitely. And if I wanted that, I could take some mashed potatoes or green-bean casserole which, by the way, I didn't.
"Bah," I say to this Macy's Day. I don't even get time off, since I only go to a school on Monday and Wednesday and don't have any work-jobs, oh poor me. That was a joke, by the way. They didn't make me come in on Wednesday this week.
But bland, god-sanctioned dinner I can take one day out of the year. Something I can't take one day out of the year is a parade celebrating things I hate every day out of the year. And usually I don't, but Zeus was clearly displeased at my comments on stuffing, so I ended up seeing a few minutes of it.
People whine about Christmas being too commercial, but at least that's when it ends. I think the ONE THIRD OF THE YEAR leading up to it, specifically the third third of that third, does much more damage than the one day. And this day does more damage than that day. It's a parade, and yet the fools keep stopping to sing stupid songs. As much as I question an attending spectators' right to exist, it isn't fair to make them stare at the Precious Moments tribute to the life of Mickey Rourke for ten minutes just because NBC cameras are filming Barney singing about good manners a few floats up. I heard a bit of it... It bothered me that Barney had a different voice than I remembered, because the song couldn't help but be prerecorded, and they've been using this one for years. It also bothers me that I noticed. To break up the monotony with a different kind of monotony, marching bands go by playing non-marching band songs. "...and here's the Frupwutch State University Grebloids with R.O.C.K. in the U.S.A." That's such an absurd statement, I wish I had remembered the school or band's name just so it wouldn't sound like I made it up, because I didn't. So if you haven't selected marching songs, why use a marching band, then? The fact that they can march has ceased to be a factor when you've just shown me a guy playing a piano moving along at the same speed. It's certainly not as if anyone likes marching bands. I'd much rather you hired a good band and stuck them on a float. No, not Erin Carter. No, he's not even in a band. He's related to someone who was in a group which was not a band. Hey, I said no. NO, I SAID.
It's never a good sign when the two brain-robbed commentators talking at length about Pikachu comes as relief.
But I was saying, trust me, you'd save money. Although a good band's members might demand higher salaries individually, the total payoff wouln't be nearly as much. The simple fact is that there are usually around 80 redundant people in a marching band, 60 of them drummers. Parades alone could save hundreds of thousands of dollars each year on drummers if they could just get the idiots to stop twirling their sticks around. No one's impressed. Get to work. It is the equivelant of playing Mine-sweeper at any office job in which your task is not to test new versions of Mine-sweeper. (my excuse for not having a job is that I hate Mine-sweeper)
There are balloons, too. Great big monstrous ones, which fittingly depict monstrous animated entities. It's just like an unabridged collegiate amazon.con giftlist of all the things that make me like people who like them to drop dead. We got Arthor the anteater, Little the Bill, Clifford the big-sized dog, Spongebob the Builder and on and on. I challenge you to challenge me to come up with acceptable reasons for hating all of them. I guarantee you I will accept my reasons. Just for the sake of irony, here comes Ronald McDonald following a commercial break. In case I was thinking of leaving, the two announcers seem quite excited to bring me the news that Charlie Brown will not be kicking a football in the near future. Hey hey hey now, I'm staying right here! I bet they haven't gotten this worked up since Access Hollywood previewed the new superb bowl advertisements. The two swear on the souls they possibly had at one point that the fuball will "elude" Charlie Brown. He's not even allowed to try, I guess. I hope for his sake the whole thing is rigged and he's in on the deal. Otherwise it's just cruel, cruel fate at work. It's already been decided. He is forced to exist in a suspended state, made to eternally live out the humiliating experience the whole world wished upon him, inflated and enlarged so that everyone can look on and... not so much laugh at his folly; the entertainment factor of Peanuts was dead long before Charles Shultz was, but just be satisfied that all is as it should be. Turkey will be for dinner, Christmas Story will be on TBS, the rich people will stay rich because they've earned it, the poor people will stay poor because they're lazy, everyone south of Kazakhstan will be safely labelable as terrorists, God will continue blessing America, Charlie Brown will never, ever, kick the foot-ball. Everything's just SWELL. I want to die. That is also swell.
Santa Claus sez:
| | |
| --- | --- |
| Buy the Jongg DVD! From Moraff! Who knows programming and general computer stuff better than a guy who saves a jpeg as a png? Yeah, maybe this picture was edited, but I swear it was only to add that nifty button effect. I really did hold up this disc once. And what a disc it is! Moraff could have chosen any font to letter the disk with, but he went with comic sans, because he's just that funloving kind of guy. Hey, I'm Santa Claus. I won't endorse just any product. Not like that last bozo, with his Coca-Cola and his Oreos and his Salvation Army checks constantly rolling in. No, I wasn't always Santa Claus. I used to be Tim Allen. The last Santa Claus was on my roof, and then he fell off and I just laughed at him until he died. What can I say? Men Are Pigs (my book, available from gorbo publications) Uwah oh oh. However, that's criminal negligence. I know about this stuff, because I went to jail once. It's true, check my E! celebrity profile some time in 1995. So I became Santa, (yeah, identity theft, too!) and evade authorities yearly because the North Pole is a self-contained Dictatorship of the Jolly which don't cooperate wit interpol or nobody! You can be like me too! Just find me and murder me! | Santa Claus talks a lot |
Note: the above message necessarily represents the thoughts or many words of Santa Claus, until someone who thinks differently murders him.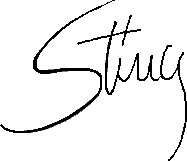 Website approved by STING.